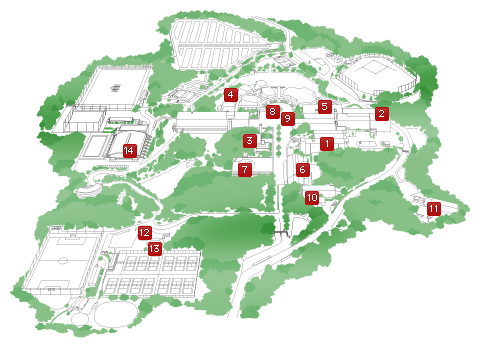 ---

Facilities for courses such as exercise therapy, prosthetics, physical therapy, water therapy, and daily life activities are available here.

There is a nursery room, a playroom for early childhood education, an observation room, a physiological laboratory, and a computer lab.

The symbol of the University. The magnificent chapel soothes the soul.
The pipe organ was made in the northern Germany's Baroque tradition by the late Hiroshi Tsuji.

The classrooms can be used in a variety of ways such as lectures or applied training.

The library can hold up to 480,000 books. The library, in conjunction with the Nagoya Campus Library, supports the University's education and research. It is open to the public.

Marche, a bright and trendy cafeteria, is on the second floor of the Shisei Building. A convenience store and a stationery-bookstore Maruzen is on the first floor.

A stage is installed on the roof.
8.Wheat Garden(Bakuryu-en)

From the bus stop, a walk along a promenade will find you in the Wheat Garden, a wide resting area centered around a water fountain.

The water fountain in the middle of the Wheat Garden. It was constructed with the students' growth in mind.

A dormitory on the campus.
There are five one-person rooms and 14 two-person rooms.

Clubs and circles use this as a training camp site.

A full-fledged pottery studio with a climbing kiln. Pottery classes and the Pottery Club use this room.
13. Climbing Kiln "Sozogama"

Sozogama is a chambered climbing kiln, composing of two separate kilns.

The general gymnasium has Taraflex flooring used in international competitions.
A table tennis room, a judo-jo, and a training room are included, and they are used both for teaching and for the community.
First Ground: Rugby field, American football field, (renewed in February 2008)
Second Ground: Soccer field
Baseball field
Futsal court
13 tennis courts
Golf driving range
Archery range
Horse riding ground
Shaolin dojo
Karate dojo
Indoor swimming pool