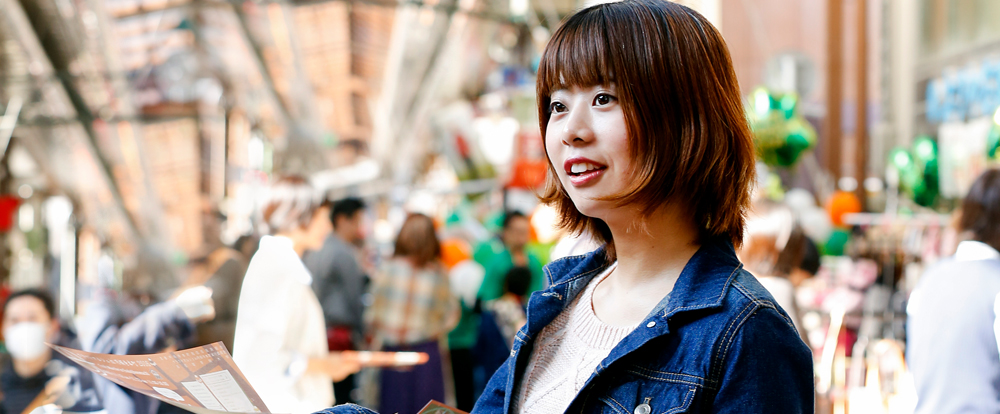 On the one hand, we live in stable and mature society, but at the same time our contemporary society has been changing quickly by becoming complicated and diversified. In such society, we have to develop abilities to discern social problems and to seek out solutions proactively in order to survive.
The faculty of contemporary social studies was founded by restructuring of the department of policy studies in the faculty of economics in 2015, with the aim to cultivate students who gain expert knowledge and acquire abilities to see contemporary society from a wider perspective. The faculty offers approaches to the complex interaction of economic, sociological, legal, psychological and policy- making factors that affect social systems.
Students choose subjects according to their own interests, and acquire a wide range of knowledge about contemporary society by looking at four areas: Human and Psychology, Economy and Business, Social Institution and Policy, and Social Life and Local Community.
The faculty contains the following features. We draw up seven research themes: Communication and Psychology, Human Care and Conviviality, Life Course and Family, Community Design, Tourism and Regional Development, Business and Innovation and Urban Creative Management. In addition, students can get involved in local communities, companies and administration outside the university through active learning programs.
---
The faculty of contemporary social studies nurtures persons who care for, and live with the others through the understanding diverse social relationship in the global age.
The faculty offers special education as below.
In order to understand contemporary society deeply, we have seven research themes. Students research:
Communication and Psychology
Function, structure and meaning of human psychology and communication.
Human Care and Conviviality
Care and support necessary to realize a convivial society.
Life Course and Family
How to go through their own lives in families, businesses, and local communities.
Community Design
Design of a community in which all people can live well.
Tourism and Regional Development
Contemporary tourism from perspectives of business, culture and regional development.
Business and Innovation
Principles, mechanisms and future development that companies create new value and bring about social changes through innovation.
Urban Creative Management
Reasons why urban areas are always new, creative and attractive, and how to manage urban development.
Abilities to think and act independently will be developed through the following active learning programs.
Research Projects
A number of teachers belonging to the faculty offer diverse research projects in their specialized fields. These research projects will be held at small group seminars. Students gain abilities to define challenges and problem solving skills.
Educational Events
The faculty holds education forums for students to announce their achievements. Through these experiences, students have opportunities to acquire communication and presentation skills as fundamental competencies for working persons.
Internship Programs
Mid and long-term internship programs offer students the opportunities to understand actual business scenes. These programs enable students to take an interest in working and enhance the motivation of learning.
Study Models (according to career plan)
Students can select various subjects with reference to three study models according to their own career plans.
Private Sector Model
In order to be active in a private sector supporting the development of Chubu economic area, students will refer to private sector model, and acquire expert knowledge of economic society and the culture of contemporary society.
Examples of subjects: Modern Economics, Contemporary Business History, Industrial Sociology, Labor Economics, Entrepreneurship and Management, Intermediate Money and Banking, Economics of Product Development, Corporation Law, Corporation Research
Social Business Model
Students who wish to engage in work to be related to local communities, human relationships or families will refer to social business model. They will acquire knowledge about community involvement, human services, social corporations and CSR activities, and so on.
Examples of subjects: Media Studies, Regional Community, Entrepreneurship and Management, Social Enterprise, Group Dynamics, Psychological Study of Social Issues, Introduction to Counseling Theory, Career and Human Development, Family Law, Community and Law
Public Sector and Third-Sector Model
Public sector and third-sector model is designed for students who hope to be able to work in public agencies or third-sector organizations, such as NGOs and NPOs.
Examples of subjects: Public Finance, Politics, Public Administration, Public Administration and Management, Cultural Policy, Welfare Society, Urban Design, Urban Policies, Multiculturalism and Law, Administrative Law