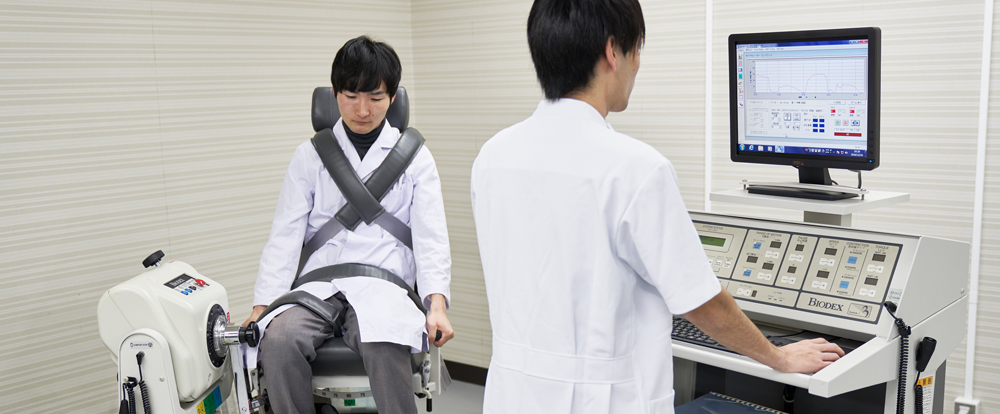 Department of Physical Therapy
Rehabilitation is regarded as the fourth field of medicine, after basic medicine, clinical medicine, and preventive medicine. In the Faculty of Rehabilitation Sciences, which is founded on the fundamental concept of re-establishing the abilities of people, students are guided by an integrative curriculum, including basic medicine, rehabilitation sciences and physical therapy practices. Our aim is to educate physical therapists, who can assume one of the most important roles in modern medicine, namely, that of recovering and maintaining patients' physical functions, while nurturing their souls in a caring manner.
Cultivating the wide range of knowledge required by practitioners of progressive medicine
In order to function well as a member of a medical team in the treatment area, medical workers need to have knowledge from as wide an area of medicine as possible. In the Department of Physical Therapy, in order for students to acquire an advanced medical understanding of disease and disability, we provide a curriculum, which covers all areas relevant to their future profession, from the basics of medicine to the specialized knowledge of physical therapy.
Gaining internship experience through OSCE (Objective Structured Clinical Examination).
In Clinical Training Ⅱ&Ⅲ, senior students take care of patients at a hospital or a health and welfare center over a period of 13 weeks. In doing so, they learn not only the skills of assessment and treatment, but also the best ways to attend to patients' needs. After the clinical training, all students are required to participate in OSCE, a program specially designed by the Department of Rehabilitation Sciences. The outcomes of this training are strictly measured against the objectives of the learning program, in order to insure students' success in future.
Providing ample opportunities for learning through contact with local people
One of the special features of this Department is that, in addition to clinical training, students are given many opportunities for positive learning experiences in physical therapy through hands-on practice, as, for example, in seminars focusing on the prevention of senile dementia and injuries caused by falling. Students also participate in planning and administering physical check-ups to people living in the local community, in order to build effective human relationships.
Cultivating the spirit of self-motivated learning at Seto Campus.
Students are free to use all the training and laboratory facilities on campus at any time, even outside of class hours, so that they can take the initiative for their own learning. Students also independently design a study program for themselves, in order to prepare to take the national examination. Our aim is 100% success on the exam, due to students' own efforts to teach and encourage each other.