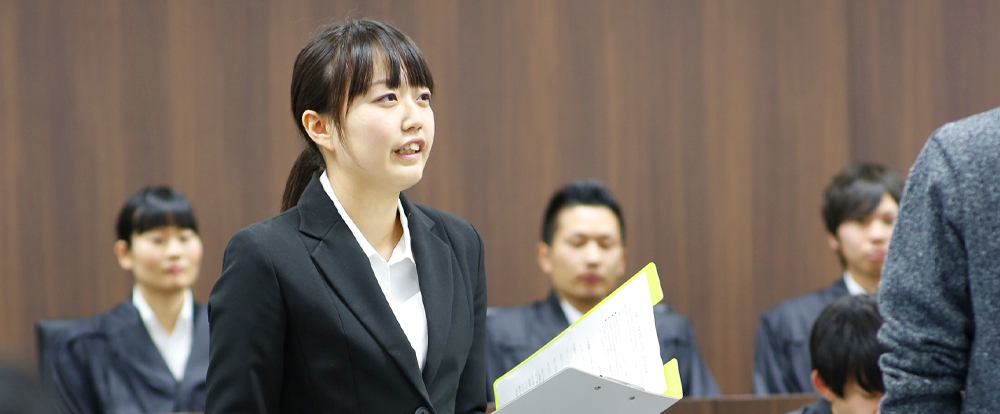 Although present-day Japanese society has entered into a period of stable maturity, demands to act in compliance with the "legal standards" have increased, both in the people's daily lives and, also, in business activities. In order to keep up with this trend, the Department of Law of Nagoya Gakuin University has set as its primary goal the cultivation of multi-talented people with a broad outlook, who will contribute to the sustainable development of social, economic and cultural life, and who also possess specialized knowledge of the law, legal ways of thinking, an appreciation for high culture, a keen sense of humanity, and practical communication and presentation skills. To become such people, students must not only master the requirements of the legal profession, but also become well versed in language studies and the liberal arts, both of which deepen the understanding of the legal matters.
First-year students in the Department of Law are introduced to the fundamentals of legal studies and exposed to various basic viewpoints, in order to gain a general picture of legal studies. From their first through their fourth year, students are required to attend seminars, where they acquire knowledge in specialized fields of law and develop presentation skills, that will be indispensable for their working-life.
The Department of Law gives students opportunities to tour the Nagoya District Court and to work in internship programs in law firms or in the law department of companies engaged in legal work. The students receive one-to-one guidance from the faculty members of the Department of Law, which has a very favorable environment, including a law library and a room for "moot court."
The Department of Law offers students three course models to choose from, which help them to clarify their learning objectives and prepare them systematically for their future career in the law:
"Public Law Model" is offered to students, whose career goals are aimed at becoming public servants, either as the national or local level or officers in the public sector or in other administrative public policy-related positions. The students study such subjects as Japanese Constitutional Law and Administrative Law.
---
"Business Law Model" is provided for students whose interest is in the legal aspects of corporate organizations and commercial business, and who want to acquire practical abilities in the field of business law. Subjects included in this model include, among others, Civil Law and Commercial Law.
---
Law and Civil Society Model
"Law and Civil Society Model" is designed for students interested in applying their legal knowledge to support community services, the need for which is continuously growing in modern society. Subjects in this model deal with Labor Law, Environment Law, Consumer Law, Political Science, etc.
---