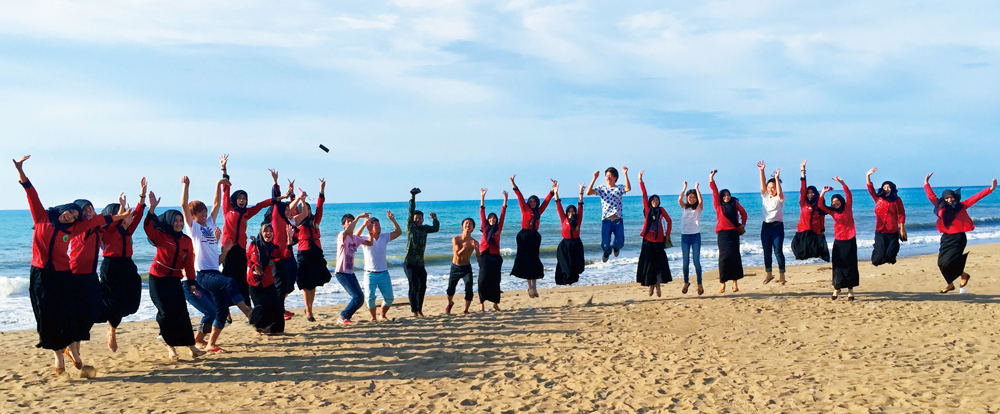 With ever-increasing globalization comes the need for people highly skilled at intercultural communication. Students in this faculty develop cross-cultural understanding and intercultural skills by appreciating and accepting cultural diversity while aiming toward effective intercultural relations with persons from a wide variety of backgrounds or cultures. This faculty fosters students' open-mindedness, cultural sensitivity, and the knowledge necessary in preparation for becoming world citizens and potential leaders of tomorrow.
---
Department of Intercultural Studies
The "global society" has its basis in the mutual appreciation of human and cultural diversity. The concept of the global society is furthered in Intercultural Studies by the deepening of intercultural understanding and multiculturalism through foreign language and area studies, intercultural communication and related courses, as well as field work experience in Japan by integrating theory and practice of intercultural studies. Students gain awareness of world and community affairs in their social and cultural contexts as well as the analysis for deeper insights.
Focus on intercultural understanding and multiculturalism.
The Department of Intercultural Studies aims at fostering the appreciation of the diversity of local cultures in a global society and the contributing to a vibrant society based on coexisting co-cultures by practicing cultural exchange. Through the prism of departmental courses, students enhance their cultural exchange experiences by grasping the realities and transformational process of culture.
Emphasis on the Here and Now
The leaders in this global era must be capable of adapting themselves in the fast changing global society nearly at a moment's notice. The Department strives to implement education through relevant material in pace with world currents and developments. Students hone their research skills through experiential study through field work in Japan and furthered through study abroad programs.
Acquisition of the basics of Japanese culture
In order to actively participate in the global society, a person needs to understand the history and culture of the society in which he or she belongs. For Japanese students or others calling Japan home, this means deepening their understanding of Japanese culture. Students learn the essentials through a comparative framework; thus raising their cultural awareness while learning analytical tools for comparing cultures.
Language learning for cross-cultural understanding
The language courses this department offers include not only English courses for international communication but also courses in other foreign languages and area studies. Various study-abroad programs serve to further enhance language and intercultural skills through practical educational activities at the sites of globalization.
Department of International Cooperation Studies
The Department of International Cooperation Studies aims to develop practices of international cooperation through cross-cultural exchange while emphasizing international cooperation and assistance. In the overseas field study, which is one of the activities for international cooperation studies, students engage in service learning by which they interview staff of NPOs or international organizations, and experience working with local people. Based on the ethic of multiculturalism, striving toward the harmonious coexistence of multiple cultures, this department enhances one's ability to work for international cultural cooperation and assistance through active participation within local communities and the wider multicultural society.
Fostering multicultural perspectives.
International Cooperation Studies offers educational programs emphasizing activities based on multicultural understanding and mutual exchange. Students deepen their understanding of multicultural society within and outside of Japan by first studying their own local community or society and their place within, which forms a basis for approaching and understanding other societies abroad, multicultural or otherwise. Students are expected to actively participate in service learning and other activities by applying their multicultural perspectives gained through their departmental studies.
Overseas field study starting in the first year
Practical overseas programs start in the first year to develop leadership and participation in actual multicultural society. In combination with various study-abroad programs, the students experience the variety of cultures, enhance their flexibility of views, and broaden their horizons.
Continuous experience on international relations
Overseas programs are followed by the opportunity for reporting and making presentations on their experiences. Also, some courses include the meeting of NGO staff and exchange students from Asian countries. By these activities, students can maintain continuous international contacts and relations.
Language learning for intercultural communication
English courses are provided in keeping with its status as an international language, and may often be taught by native-speaking teachers as further inducement for developing effective communication skills. Students also study another foreign language and can choose variously from among Chinese, French, German, Spanish, etc.