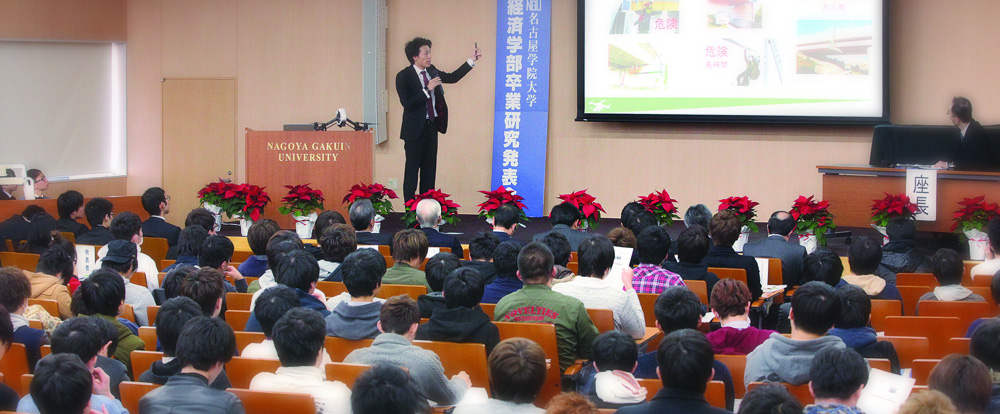 This Faculty teaches students to view the world from a global perspective and give them the necessary analytical skills to succeed in a complex world. Economics addresses a wide variety of subjects, from aspects of daily life to global affairs.

Through the study of economics, one can acquire the ability to analyze important social issues, such as unemployment, income inequity, problems of electrical power production or recent developments, such as the Trans-Pacific Strategic Economic Partnership Agreement (TPP). The Faculty of Economics provides courses of study called "Information and Communication Technology (ICT)" and "Social Collaboration," for which it has received extensive recognition.
Our educational programs are designed to facilitate students' ability, both to discern social problems and to proactively seek out their solutions, thereby preparing them to live successively in modern society.

Nagoya Gakuin University's Faculty of Economics consists of two departments, the Department of Economics and the Department of Policy Studies. The Department of Economics covers basic theories of economics, finance, history, international economics, etc., and provides students with the necessary analytical skills and tools used by economists. The Department of Policy Studies offers a general approach to the complex interaction of political, legal, sociological, and policy- making factors that affect economic systems.

It is the goal of our programs of study to provide students with access to the knowledge of economics as a sharp tool for understanding and analysis of economic activities and to stimulate their participation in the global business world and regional markets. Welcome to the Faculty of Economics!
One of the great appeals of economics is the ability to analyze human behavior from a wholistic perspective. But, in order to do this, one must first learn basic economic theory, including "Microeconomics," "Macroeconomics" and "Statistics," on which to build a foundation for the practical and applicable skills required in economics. Our instruction provides a highly-innovative ICT program, which includes "Core 6 of Economics," "1000 Basic Economic Questions," "Making Digital Presentations," and so on. These courses produce graduates with a truly global perspective and high-level analytical abilities with which to understand the world economy.
The Department. of Economics is offering three specific courses of study of interest to students: "Modern Economics Course," "Financial Studies Course," and "International Economy Course."
This course trains students to use their knowledge of economics to observe the 'real world' and to deal with economic data through the application of basic economic theory. Additionally, it is the most appropriate course for students who want to study for the civil service exam, postgraduate exams or various certification exams.
---
This course examines private and public investment, insurance, taxation, real-estate loans, rules of inheritance, etc. Students also study the effects of financial structures on the real world and other financial topics, such as the stock market and "mergers and acquisitions" (M & A). This course is recommended for those students, who want to work in a financial institution and want to receive the qualifications of "financial planner."
---
International Economy Course
This course concentrates on international trade, international finance and global business. With faculty guidance, students debate many international-related topics, such as "What makes the Japanese auto industry competitive in the global market?" or "Why there are poor and rich countries in the world?" The goal of this course is to provide students with a broad, global economic view.
---